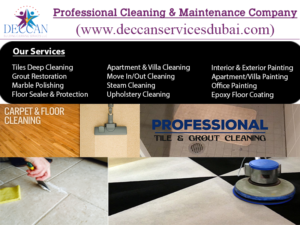 Deccan Building Cleaning Services LLC is bound to provide quality workmanship by committed and trained personnel. The company strives to maintain consistently high level of cleaning services as we designed to achieve our stated aims of outstanding customer service, continual improvements and reliability duration of contract. We provide cleaning services to individual residential and commercial customers that are reliable, environmentally friendly and cost effective. The company has fast developed a reputation as an emerging market leader due to its steadfast adherence to very strict service standards. Focus on customer service and extensive training of all the staff ensures long term relationships with customers.
We can make your dull & yellow tile shiny & white again. Bring that old grout back to life and rid yourself of the stains, smells, & bacteria now by calling +971 4 232 7969 or +971 50 4849711.
Internal Painting for Residential (Home/Apartment/Townhouse/Villa/Houses) & Commercial (Offices/Warehouses/Clinics/Schools/Restaurants)
Dubai Painting Contractor specializes in residential and commercial projects. We have an in-depth knowledge of painting products and techniques. Trust our experience and reliability. We look forward to serving you!
End of tenancy cleaning, Move in Steam cleaning & move out deep cleaning is fully guaranteed service with affordable costs and best prices, which ensures the complete refund of your deposit. We have carried out many end of lease cleanings and we can boast of many satisfied tenants and landlords. If for some reason your inventory check fails, you should notify us within 48 hours and we will return and clean the house for free.